[wpforms id="1294″]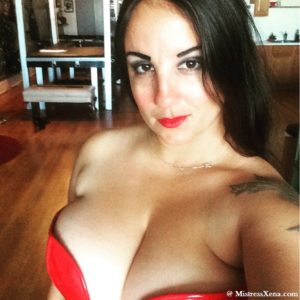 Review Written By : Anonymous
Date: 9.30.17
Today I had my first meeting with Mistress Xena, and it was PERFECT! I am in my early 20s and this is the first time I have done anything like this,
so I am comepletely new at this. An honest newbie. I was so nervous to meet Mistress Xena. When I got there I came upstairs and she greeted me with a smile on her face and welcomed me inside. I saw her dungeon and I felt like a kid at a candy store. I have always been into Sub/Dom but only in videos. She talked to me for about 5 minutes then made sure I was ready and asked if I had any questions. I told her no because I had none and I was very eager to get started. She told me to take off my clothes, put me in a collar and told me to get on my hands and knees. She walked me to her dungeon and, well, you can imagine the rest. She was so patient and welcoming with a newbie and so professional. 5/5 stars or 2 thumbs up! Aboslutley great first time!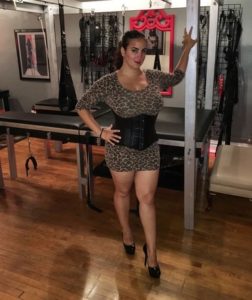 Review Written by Trample Boy
9.4.17
Thank you so much for being an excellent host at your dungeon, a phenomenal dominatrix (now the best I've ever seen after you finally tried jumping on me from your fetish furniture,) for fully trusting me in what I can handle where now you go full out/full weight on everything, and for being "a sport" on shooting short videos with me. As always, I really really enjoy my sessions with you and it literally "showed" today. As I said, stay you and now you've added face sitting as a tertiary fetish for me. Thanks again for an awesome session and your feet were enjoyable also.
---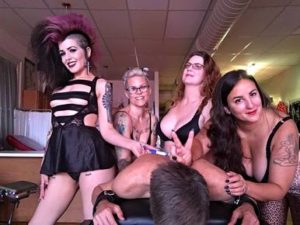 Review Written by Joe P. Tickle
8.13.17
Mistress Xena welcomed me at the Studio's door as usual. What was different was that today's tickle party included three other playmates, the first time I've been at the mercy of four ticklers.
Mistress Sass owns beautiful flowing red hair and a smooth, sensual singer's voice that she likes to drop to a whispery tone in ticklish ears. Mistress Andrea's gorgeous eyes accent her short blond hair and perfect smile. Miss D rocked a purple mohawked hairstyle, with a model-trim body and impish tickle-talk voice. Mistress Xena, the Studio's owner with long brunette locks and penetrating brown eyes, flashed her voluptuous charm and years of dominatrix experience.

All of them sported well-groomed tickling nails, showing them off to me as I undressed. Soon they had me spread-eagle cuffed in a face-up position on a leather bondage table. Mistress Xena slipped a blindfold over my eyes. Ten anonymous nails started grazing my left foot, ten more stroking my right arch. Two more hands wriggled into my underarms while a final set spidered on my sides.

I tried not to squirm, but Mistress Xena and her friends knew me too well from previous sessions to hold still. "Tiiickle tickle" and other cooed taunts weakened my resistance for 20 minutes. A tongue snaked into my ear. Curious claws explored the palms of my hands, stomach and knees. Toothbrushes scrubbed between my toes, and the relentless verbal arousing continued. Eventually their attention turned to draining me. With two giggling vixens tickling all over my feet, another lightly teasing my balls and Mistress Xena steadily working a vibrator along my shaft, they succeeded twice in an hour.

Another blissful hour remained. They loved my exposure upright in the X-frame, enjoying the futility of my clenching defenseless muscles as they assaulted from front and behind. From there they moved me to a spanking bench, allowing easy erotic access.
At the end of the session they asked if I had any last words. "Can we do this again sometime?"
---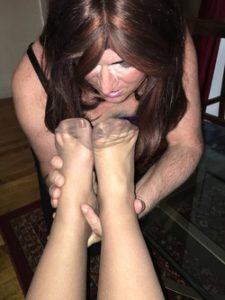 Review Written by Tanya
4.20.17
Mistress Xena Thank You so much for today's session. It was awesome. i really enjoyed being left in Your capable and evil hands. Two things about the session really stand out. First was when You put the collar on me.The collar definitely puts me in a sub space and is assign of ownership to me. i hope to one day be a worthy toy for You to own and use. The second was the shower. Again it was You making Your property. i can not thank You enough for this honor.Your complements on my fashion made me feel special also.If i am allowed to make another session with You please feel free to do what ever You want i am up to try anything once or twice. tayna. You are a true Goddess!
---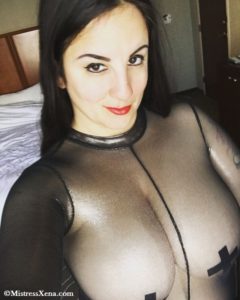 Review Written By Doughboy
On 4.14.17
I've been fortunate enough to have had two sessions with Xena during the three months since she first signed on with sessiongirls.com, and all I can say is that I wish I had been aware of her earlier, because as Chicagoans well know (she's been a fixture on the BDSM scene there for more than 15 years), once you've had a session with Xena, you don't have to look for another Mistress, ever.Unlike many professional dominatrixes who have added wrestling and boxing sessions to their repertoire as a means of expanding their clientele, I found Xena to be surprisingly playful, friendly, and down-to-earth; and not particularly hung up on strict adherence to the rules and etiquette of the Mistress/slave dungeon relationship, though if an unforgiving and sadistic Mistress is what you're looking for, there's none better than Xena.
For my session, a one-sided boxing beat down, which she administered with a remarkable degree of enthusiasm for someone with so much experience, I gave her an elaborate fantasy role-playing scenario, to which she brought not only her considerable skills as an actress (including a spot-on middle eastern accent), but also contributed her own ingeniously creative input, taking my role play in directions I hadn't even thought of, turning our reality into something that actually far exceeded my already over-the-top fantasy.
She was also extremely agreeable and accommodating regarding any and all special requirements I had for the session. For example, when I made an admittedly unusual request for a particular item of clothing I wanted her to wear, she was the one who took it upon herself to shop for the garment online. She was immediately able to pick out something suitable, sent me a picture of it for my approval, placed the order as soon as I sent her the funds, and was in costume, wearing the desired garment when she greeted me upon my arrival for our appointment.
I could go on and on about her unimaginably magnificent booty and boobs, her genuinely sadistic nature, and her very real fetish for all things rubber. Suffice to say she is the "total package," and as long as you're able to give her as much information as you can about the kind of session you're looking for, I guarantee she will be able to create an experience for you that you will enjoy every bit as much as I enjoyed mine.
I tell you this; before my bruises had even fully healed, I was missing her, and dreaming of what we'd do the next time I'd get to see her.
---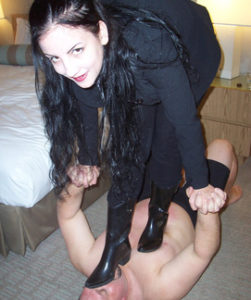 Review Written By Paul
On 12.14.16
Mistress Xena,
My goodness; what a session we had today!! I actually thought about it earlier tonight and compared my other two only great sessions this year and I had my best session with you for 2016 without question. Besides your very aggressive nature (once you felt me out and saw what I could take), you were not afraid to use your full weight on me and use your body as a weapon (feet and booty). Your weight is freaking awesome and very condusive to my fetishes which is a 10/10 rating. The minute you stood on me and sat on me, I was very quickly in subspace which is very rare because you had not even gotten aggressive yet.
I'm not going to lie, I have never attempted to session with a domme twice in the same week or back to back but the session was just too damn good and there's no telling when you'll be back in New Orleans or when I'll be in Chicago besides the upcoming wedding that I'll be in. With that said, I'm definitely sore but actually am interested in another session as you had suggested. I think there is a way to dampen my soreness in a way. I can lay 180 degrees from where I was oriented today so you're "attacking" the other side of my body. I appreciate you complementing me on not being a "pussy" by not tapping out, using a safe word, telling you to ease up, or asking you for a break. I was happy to please you in that you were able to do what you wanted and how you wanted.

---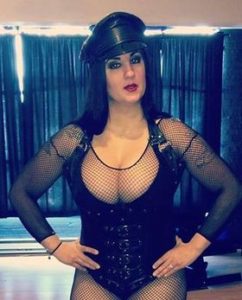 Review Written By slave C.
On 3.1.16
i arrived promptly for my session with Mistress Xena with a bit of nervousness. While i have had the privilege of sessioning with Her for many years, Her control over me always makes me a bit anxious. After i knocked at the door i could hear the footsteps approaching and the clicking of Her long, black boots. The door opened and i was instructed to enter. As the door closed behind me i saw Mistress wearing black leather boots and Her lovely long dark hair. She instructed me to strip immediately. Mistress immediately began the process of restraining me lying on the cement floor. With ropes and other restraints, She firmly secured my body so i was unable to move.
Grabbing a pack of cigarettes, a lighter, and a large bag of clothespins, She then stood above me and lowered her bottom onto my chest where all i could see was Her long black hair and black leather boots. She lit her cigarette and enjoyed a long smoke as She slowly applied dozens of clothespins to my privates. During this time, She used my mouth as her ashtray, further making me endure Her control over me. While the pain grew more intense with each added clothespin, i was firmly under Her control and forced to endure more punishment. After a lengthy treatment of CBT, it was time for some whipping and corporal punishment. She led me to a cross and restrained me firmly in position to be whipped. The pain only excited me more, and was intensified as i watched the mix of skill and anger She expressed while She punished me. Feeling completely helpless, i recall being so hard i thought i would explode.
Mistress Xena then directed me back on to the floor. While i lay there, She grabbed my ankles so my erect privates were aimed at my open mouth. Forcing me to cum into my face is both humiliating, but i see as a reward, for taking Her punishment. i hope to serve Mistress Xena again soon.
---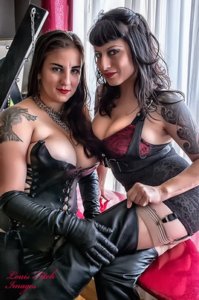 Review Written By Joe P. Tickle
Posted on 1.11.16
Decided to start the new year in Chicago visiting The Studio with co-owner Mistresses Xena and Alexandra.

Soon I was stripped and pinned to an X-frame as they began to play with me. They're bright, experienced and know all my buttons to push. They're also tickle-teasing specialists, approaching me with wiggling fingers and "He's so ticklish everywhere!" They eased in with light tickling of my nipples and ribs to get the giggles going, eventually attacking to get me squirming uselessly from the fingers on one side of me to the other. My laughing got more desperate as one crawled her fingers into my armpits while the other burrowed into my hips, and rocked so much when they both squeezed into my inner thighs that they camped there for quite a while. In a sign of things to come, they also verified with some sensual fingernail strokes that my cock was ticklish.

Next they moved me to the upright stocks, basically an X-frame without the X boards behind me, which allowed them to come at me from all angles. The psychological torment ramps up an extra notch when you can't see the fingers coming to tease the tips of your ears, the swoop of your neck, or the underside of your butt cheeks in addition to the other places.

Then they cuffed me face-down and spread-eagle on their leather bondage table. Mistress Alexandra approached me from the front, climbed on the table and forced my head down by kneeling her athletic body on top of it. This gave me a smothered view of her attractive feet that were inches from my shackled hands, and gave her a perfect angle to destroy my ribs, sides and hips until I was gasping for breath. Meanwhile Xena settled comfortably between my legs, donned a pair of latex gloves, and delightedly gave me my first experience with butt-crack tickling for at least five minutes straight. Gloved hands also tickled provocatively along my balls, making things harder.

In time they lowered their voices to a seductive level, their Kryptonite for weakening whatever willpower I might have against the next phase of their plan.
"Our cock is mighty hard here," Xena noted.
There was a quiet click, and the whir of an electric toothbrush from behind.
"Oh, NO, you know that sound…" Alexandra purred. "You know what that means… this is what he can't resist!"
"I know," Xena cooed in reply. "Buzz, buzz…" Humming fiendishly, she gently re-positioned my stiffening shaft so that the delicate underside was vulnerably, helplessly face-up for easy, merciless access. The soft bristles slowly drifted up and down my erection, or lingered in small, lazy, all-knowing circles in the sweet spot just under the head. There was no escape, physically immobile beneath the persuasive and skillful brush, mentally awash in the sensual taunts of "tickle, tickle!" and "coochie coo!" in my ears. There was only one possible outcome.

"Ooh, he's trembling…" Alexandra laughed. "He's trying to hold it in… I don't think it's going to take very long…" And with 40 minutes of tickling foreplay already on their side, she was absolutely right. Within a couple of minutes I was a throbbing, dizzy mess.

They weren't through, quickly cleaning the mess and descending on my feet, working them over with their nails and assorted brushes in spots they knew too well. After another 15 minutes working out my lungs and limbs against the grip of the cuffs, they released me home, beginning the year on the ultimate high note.
---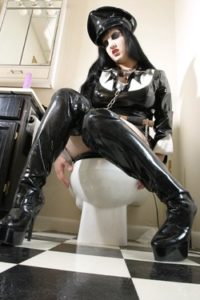 Review Written By Peeturd
Written On : May 2015

Pee.turd was nervous as he dialed the clinic. He recognized Nurse Xena's strict voice on the line as he stammered: "Th-th-this is peeturd. I'm calling about my appointment." 'Yes. I'll be ready for you at 10 am on Monday, but you need to prepare a few things yourself." Peeturd could tell she was smiling devilishly as she said this. "Yes, ma'am," he replied meekly. "Now listen carefully, slave," she commanded. "Your mistress is sending you to me for training, but you need to prep yourself in advance. Understood?" Peeturd gulped. "Y-y-yes, ma'am." "And another thing. I'm going to be running some tests and experiments on you, so I need a urine specimen. Bring a water bottle with some fresh piss in it. And it had better be plenty full or I'll have to punish you." "Urine specimen??" he repeated. "That's right, peeturd. Be glad I'm not asking you to bring me a stool sample, you piece of shit." "Yes, ma'am. I'll see you then." At precisely the appointed time, peeturd rang the doorbell of the clinic and waited anxiously as Nurse Xena edged open the door. She was dressed in her latex nurse uniform. She grabbed his left nipple through his clothing and dragged him in the door. "I hope you came prepared," she said languidly as she popped him on the bottom a few times. "Yes, ma'am. I have everything as you instructed." "Very good. Now get undressed quickly and don't let anything slide out. Where's the specimen?" He produced a small plastic water bottle that was 3/4 filled with a yellow liquid. "That's not nearly enough, slave," she said forcefully. "I was expecting a one liter bottle at least. Your mistress will not be happy with this when I report it to her." "Oh, please, Nurse Xena. Please don't give me a bad report. If you do, she'll put me in the punishment potty all night again," he pleaded. Nurse Xena threw back her head and laughed at this. In a few moments he was naked and stood before Nurse Xena with his erection at full staff. "Up on the exam table. NOW," she instructed. "And as your punishment for not doing things correctly, your cock will be coated with Ben-Gay." She let out a lecherous laugh. Next comes Dildo Sucking. "You suck on that." He struggled with the cock in his mouth but obediently went to work cleaning it with his tongue and lips. "While you're working on that, slave, I'm going to clean you out from the inside. Your mistress is interested in improving your enema retention. So we're going to see just how much fluid we can pump into your bowels today. Sound like fun?" "Mmmm-mmmmph," was all he could respond as she laughed derisively.
Nurse Xena left the exam room for a short while and then returned carrying an enormous amber latex enema bag. Peeturd could see steam rising from the opening and a long tube snaking from the bottom. The tube ended with a connection to a black rubber inflatable irrigation nozzle. A short tube and squeeze bulb was attached to the nozzle. Nurse Xena hung the steaming bag from a nearby bag rack and began to apply lubricant to the nozzle tip. Peeturd stared wide-eyed as he read the label of the tube of lubricant: "Ben-Gay Menthol Ointment Rub." He shook his head as the dildo protruding from his mouth waved back and forth.
"Settle down, peeturd," she cautioned. As he felt the beginnings of a painful burning sensation, she slipped the nozzle inside with a shove. Once seated, Nurse Xena began pumping the rubber bulb and the nozzle grew inside of him, stretching his sensitive tissues to the maximum. He moaned as the burning pressure crossed his pain threshold. "I had better restrain you for this next procedure," Nurse Xena proclaimed. "I don't want you thrashing about and interfering with this delicate procedure. How are you doing on that dick?" She yanked the dildo from his lips and examined it. "Pretty lousy, I see. Well let's try it again and this time I'm going to give you a little motivation." As she said this, she picked up a pair of stainless steel forceps with one hand and began tugging on his right nipple with the other. After securing his wrists to the side of the exam table with special cuffs, she applied the forceps to the nipple and closed down.
"AAAAIIIIIIEEEE!" Peeturd let out a scream as the pain shot through him.
"I guess I had better look for a gag as well." she said. "Now listen, you piece of asswipe. I'm going to put this dick back into your mouth and if I don't think you're doing an enthusiastic job, I'll let you know by squeezing your nipple with my forceps. Got it? Good." Peeturd began feverishly working his tongue and lips, slathering the dildo with his saliva in order to avoid more nipple torture. "That's better, slave," she commented. "It's amazing how far a little motivation will go."
Finally, when she was satisfied with his cleaning, she replaced the shiny dildo with a special feeding gag. This gag not only blocked his ability to speak or scream, it also was fitted with a feeding tube attached to a funnel. Any liquid poured into the funnel would be force fed into his mouth. "Now I think we are ready for our first experiment," Nurse Xena announced. "I'm going to feed you from both ends until I think you've had enough. Sounds delicious, huh?" She chuckled sardonically at this.
Releasing the valve on the enema tube, she observed as the hot soapy solution emptied from the bag to his bowels. She also noted that his penis was becoming erect and had started leaking some lubricant fluid. As the enema flowed inexorably into him, she made her way to the head of the exam table, picking up the bottle of peeturd's urine specimen as she did so. "As you are being filled with my special enema on one end, i am going to fill your belly with your own piss," she explained. "I want you to swallow every drop. It will be good training for your service as my toilet slave. If you hesitate or spill a drop, I have my forceps and you have your nipples." She cackled at this comment as she unscrewed the piss bottle. Peeturd watched in wide-eyed terror as she slowly and steadily began pouring his foul excrement into the funnel attached to his mouth. When the funnel was filled, Nurse Xena put down the bottle and placed both hands on his nipples. She rolled and pinched them as she encouraged him to swallow.
"Come on, petered," she cajoled. "You know you're going to have to consume the whole bottle. So get busy. Next time I want a much bigger bottle filled with your piss. Got it?" Peeturd grunted as he struggled to gulp down the disgusting cocktail.
"Or would you prefer to bring me a stool sample?" she mocked as she placed more pressure on his tender nipples. Little by little, he was able get the fluid into his belly as oceans of more fluid filled his lower entrails. He felt stuffed and totally humiliated. After some time, Nurse Xena removed his feeding gag and turned off the flow from the enema bag. He had taken nearly 3/4 of the bag's contents. She slowly deflated and then extracted the nozzle from his ass warning him not to let out a single drop or face a vicious whipping. Peeturd clenched his buttocks tightly and fought the urge to expel with all his might. "I'm afraid you're going to find our next procedure more uncomfortable than the last," she finally said. "Your mistress wants your urethra stretched so she can permanently implant a large bore catheter in your bladder. She wants to make you totally incontinent and dependent upon her to empty your bladder. So I am going to use my lovely stainless steel sounds to probe your penis. But of course the only lubricant I have handy is Mr.Ben-Gay. So it's going to burn. No matter, I've thought of a way to keep you silenced and not disturbing the other patients."
At this she fixed petard's head into a frame-like clamp that attached to the table. Once in place, it made it impossible for his to move his head. So immobilized, it will be a simple matter to block his mouth during the penile procedure. After lubricating her thickest sounds, Nurse Xena prepped peeturd's penis by wiping the opening with disinfectant and by injecting sterile lube into his peehole. Nurse Xena extracted a No. 8 bore sound and began lubing it up with the fiery ointment. "This is going to hurt you a lot more than it's going to hurt me," she said with a laugh.
Slowly and methodically she inserted the thick steel rod into the head and then the shaft of his penis. Once it was inserted fully, petered began to experience an unbearable burning in his cock. With his head immobilized and his mouth covered by the cruel nurse's massive buttocks, his screams of pain were buried and barely audible. His legs, strapped tightly to the stirrups, thrashed wildly as he sought relief from the torment of torture of his cock. Meanwhile, Nurse Xena pumped the sound slowly in and out of his opening. Deciding it was time for a thicker rod, she removed the first one and replaced it with a number 9. After lubing it up with the menthol ointment, she shoved it into his distended opening, bringing about a scream that could be heard despite all the muffling. At this point, petered could no longer contain the extreme pressure in his bowels and allowed some liquid to leak from him onto the exam table. Witnessing this transgression, Nurse Xena became enraged and quickly hopped off his face and back onto the floor.
"Now look what you've done, you filthy piece of crap," she admonished vigorously. "Your mistress is right. You are a disobedient worthless loser. All you're good for is serving as a woman's toilet." She unstrapped and unbuckled him, releasing his head from the restraint and ordering him to stand and lick up every drop of the filthy mess that had emerged from his ass. She shoved his face into the brown puddle and shouted: "That's right, you dog. Lick it all up before I use my whip to beat the crap out of you."
"No more experiments," Nurse Xena proclaimed. "It's time for your toilet training lesson. Into the bathroom and get your filthy head under my potty chair. Now. Move!" Peeturd positioned himself face up on the floor with his head position where Nurse Xena's buttocks soon would be in his face. He slowly fondled his erect penis as he waited in anticipation for Nurse Xena to take her seat on her toilet throne. Finally she appeared holding a bulb syringe in her gloved hand.
"I've just given myself a little enema with this douche bulb. It will help me release my bowels and provide you with your breakfast. Now open that filthy mouth and get ready to accept my gifts." With this she positioned herself on the toilet chair directly over peeturd's gaping mouth.
A stream of acrid urine burst from her body and hit him in the back of his throat. "Drink it down, piss slave," she said. "I've been saving it all day just for you." He did his best to get it down, but much spilled around his face, into his eyes and nose. She took note of his sputtering and reached down to tug on his nipples. "You're doing a poor job, peeturd. Maybe a little nipple torture will help you concentrate." He screamed as her sharp fingernails dug into his elongated nipples.
As the pain subsided, he looked up and knew what was coming next.
With a flatulent burst, a flood of stinking water washed over his face followed by a bunch of brown nuggets that landed in his open mouth.
"Chew it. Swallow it. Eat it, you pig," she shouted at him. "Eat it. Be my toilet. Take it. All of it. Drink my piss. Keep stroking, slave." He felt himself approaching the edge of climax as she tugged mercilessly on his poor nipples and as his guts churned and roiled thanks to the massive enema that he continued to retain. "Swallow it you filthy piece of shit. Now." Peeturd fought back the urge to throw up and little by little got the turn down his throat. "Did you swallow it all?" she demanded. "Yes, Nurse, I did," he responded. "
The End.
---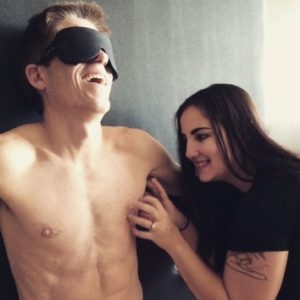 Review Written By Joe P. Tickle
Posted on 6.4.14
I had left it up to Mistress Xena to choose which other two women she'd invite to tickle me for three hours this year, adding an element of surprise to the visit. Returning for the fun was Mistress Alexandra, and I was introduced to Mistress Simone, the primary owner of The Studio along with the two co-owners who I'd known only by reputation previously. And so quickly I was forcibly stripped and chained down in spread-eagle fashion by these three mistresses, each with over ten years of experience torturing men, and two of them with hours of experience in torturing and studying my own weak spots. The leather cuffs held me fast as they converged on my upper body with widening smiles, well-rounded nails and nuanced tickling touch. I was flat on the U-shaped table with walk-up access between my legs, so I was looking up into a huddle of three pairs of blazing eyes. Their grazing touches along my ribs, stomach and underarms had me spasming with laughter in seconds, and eventually morphed into a mixture of well-aimed squeezes and pokes as well.
The verbal teasing was instant and ruthless.
"He's such a wiggle worm!"
"Tickle, tickle, tickle!"
"So many places to tickle."
"Stop it! I can't take that!" I protested with a wailing edge.
"I know, I remember," Mistress Xena purred like an evil babysitter. "Poor baby. Coochie coochie coo!"
Within three minutes Simone took two slow steps back to my feet, pinned my ankle firmly against the table padding, and wiggled her long dark red polished nails delightedly up and down my sole.
"Such soft feet!" she exclaimed as my back arched in the agony of my most ticklish spot.
"Yes! He gets pedicures!" Xena replied as she joined in for a double-team, with ten nails scratching along each of my arches in scribbling patterns and aggressively up under my flailing toes.
"I love his feet! Right under those liiiiittle toes!" Simone sang.
I'd never faced this much baby-talk at once, as my laughter got more wild, gaspy, and soprano.
"Ooh, where you gonna go?" they taunted as they resumed triple-teaming my upper body for a spell, then brought out the toys.
"Hold stiiiill!" Xena said as she traced a pinwheel gracefully along my nipples, a command I had to obey to prevent the spokes from transitioning from tickling to pain.
"This is fun!" Simone said as she dug flinchingly hard into my quads and reached under my thighs to spider around dancingly.
Alexandra lazily trailed an oversized four-pronged fork from hips to armpits and back again, occasionally across my heaving chest.
The soft tendrils of feathers teased my neck and ears. "You are so spoiled!"
Throughout the first forty minutes their nails also took turns sensually tickling my privates, and as my resistance began to wear down, their primary mission became to break me. I'd nearly overheated from five minutes of tender attention from the Sonicare whirring softly up and down my clean-shaven shaft. Their voices softened into motherly comfort for a few minutes, as they used ice cubes to provide momentary relief to my swollen state.
Then, relentless erotic assault.
Readers of my "Master Of My Domain" TMF blog series know that I was already in a feverishly sensitive state from three weeks of self-denial in preparation for this day. I had to buck my hips desperately to take my mind off the endless tingling as fingertips, nails and angel-haired brushes glided teasingly random paths. But it was all too easy in my shackled and splayed state for Mistress Xena to simply hold it firmly in place between her thumb and forefinger, exposing the underside as her personal playground.
"Please! Don't! I can't…" I begged to delay the inevitable as long as possible, which they only returned with fiendish grins and mocking "pleases" of their own.
"Aw, there's nowhere to run… nowhere to hide from these six beautiful hands," Xena said as she locked dark eyes with mine.
"We have goose bumps over here!" laughed Simone. "Ohhh, look at those feet arch for me."
"I can tell how excited he's getting the way his toes are curling up!" Alexandra noted gaily as she scraped my heels and insteps with the prongs. After a thoughtful pause, she stepped out of my field of vision for a few moments and returned with a smooth, slender blue vibrator. The toothbrush bristles were devastating enough, but this new weapon in tandem was utterly merciless.
"Hmm I wooonder where his most ticklish spot is?" mused Simone. "I think it's the toes," she correctly concluded.
"NooooOH!" I cried as endorphin overload spiked me into dizziness and I strained with all I had left to keep from thrusting.
"Oh, no? Nooo?" Xena cooed affectionately, as she gently caressed the length of my shaft with the brush, and Alexandra manipulated the vibrator in small, rhythmic, irresistible circles just below the head, while Simone's giggles floated into my ears and her maddening nails tickled delicately beneath all ten of my toes.
I was rocked by a thunderbolt, and sank down into the table padding with a blissfully defeated moan. Not for the last time that day, as it turned out; they had no intention of me starting another three-week fast, or even a two-hour one, and neither did I.
---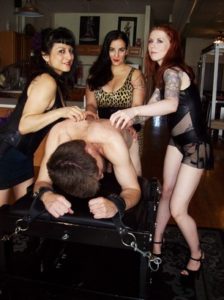 Written by: joe p. tickle:
May 2013
The Studio door opened and Xena smiled and met me with a hug. We'd started planning this reunion six months earlier during the December chill. Now I was dressed in a T-shirt and shorts, but not for long. Alexandra stepped out into a hallway near the bondage table, and we also embraced hello. Each of these mistresses had tickled me before at the Studio, though not at the same time. Today was even different, though. Today was my birthday, and I'd long wanted to be tickled by three women at once. So we were joined by Ms Mara, who I knew only by reputation.
"We're planning to do lots of things to you today," Xena said mischievously. "You've got way too many clothes on."
Soon I was spread-eagled nude on my back on the leather bondage table, wrists and ankles fastened in leather cuffs, a pair of belts strapped across my chest and waist, but with plenty of circulation for the three hours that lay ahead. The sight of three voluptuous women encircling me with sly smiles, styled nails and a thirst for tickling is nearly indescribable. Alexandra and Xena already knew my weak spots from previous sessions. Taking advantage of the table's construction, Alexandra walked into the gap between my legs and glided her nails up and down the inside of my thighs, pausing just below my privates to tickle underneath for long stretches. Eventually she settled in at my left side, spidering and squeezing my hips. At the same time, Mara's face was inches from my own, smiling right into my eyes as she explored my upper body for the first time. "Oh, you are a ticklish one, aren't you?" she as she found my underarms with both hands, teased my nipples and neck, and dug into my ribs. Xena went straight for my feet, camping in front of them at eye level and making sure to curl her fingers under my toes and peel them back. In minutes I was a sweating, struggling mess. And they loved it. Every ten minutes or so they rotated spots. The Studio is stacked with toys, and I had soft ropes sliding cleverly back and forth through my toes. There was a pinwheel rolling along my arches, then my underarms, there may have been two of them – I was getting hazy and breathless. They also attacked in packs… double-teaming my feet, my knees. I was unprepared for how much attention they gave to my shaft, taking turns while the others strategically distracted me with assaults from all sides. Xena brought out an electric toothbrush. Later Alexandra and Mara had metallic talons on… when those prickly devices are dragging up and down your manhood, you must fight the urge to thrash with all your being. When they applied the vibrators (yes, two) on it, I just about lost it. Almost. They were feasting on how my laughs and moans melted together as I arched my back and fought to keep some kind of control. One of the vibrators was an especially fiendish device that actually wrapped around the shaft, just below the head – easily the most erotic zone on my body. My only saving grace was that it tended to stop working unless attended to constantly.
After 45 minutes or so they moved me to a leather spanking bench and re-cuffed my wrists and ankles. Naturally they took full advantage of the free access from behind to tickle my butt cheeks, and to reach under to tease almost every other place too. They made a game out of tickling my upper body so that I'd flinch away toward the one at my feet, and so on. They figured out that squeezing my knees was extra ticklish in this position. Since one of them was almost always standing right next to my face, I also had a gorgeous view of shapely legs and feet. Probably an hour and a half had passed when they led me to a small side room with a pair of wooden medieval stocks. The set-up and cushioned seat was surprisingly comfortable. My legs were locked straight out in front of me, and my arms cuffed straight overhead. For the first ten minutes they enjoyed their new advantages, especially the ability to feather under my legs and the total immobility of my feet. And then the tickling became incredibly sensual. They slipped a thick padded blindfold over my eyes which heightened everything else. Their strokes became light, slow and smooth. They blew softly into my ears. They knew from experience that verbal teasing made me infinitely more ticklish, so they started whispering tickle-teasing up close. I felt like I was in heaven. The sensation of nails gently tickling my soles, my thighs, underarms was overwhelming. Then I heard a vibrator hum, and felt contact against my erection. Then the other one was wrapped around snugly into place. The pressure alone had me throbbing before it was even turned on. "Hey… b-be careful now…" I stammered. My resistance was nearly exhausted. The fiendish giggles that came back caused my eyes to roll back in my head. "Careful about what?" someone cooed. They were going for it! I could feel two of them leaning in close at my hips, one of them softly caressing and tickling. The other was tickling my thighs back and forth with one hand, and paying extra close attention to make sure the "money" vibrator continued to hum. And of course, one stationed at my defenseless soles, tracing sensually up and down. As I descended completely into helpless moaning, they continued to coax me verbally in the blackness."He's going to laugh right through when he comes!" one said gleefully. She was exactly right. My body thrust mightily one last time against the restraints, and then sank euphorically back into the seat. They slipped the blindfold off and smiled at me, allowing me a few moments to collect myself. They gave me some water, unshackled me and led me to my feet. And then over toward the x-framed cross. Within minutes I was spread-eagled upright, limbs again splayed, looking into the grinning faces of the tickling vixens as they approached me. "Oh, we're not done with you yet!" Xena said, noting the last hour remaining on the clock. And as the other two embraced me from behind to whisper in my ear and tickle my hips and insteps with a fresh round of delighted laughter, she held my shaft easily upright and began the vibrator on another long, slow, stroking, teasing mission…
It turned out to be a really good birthday.
---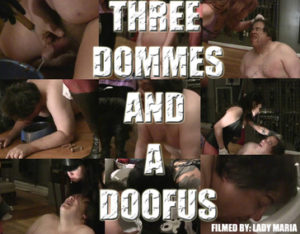 Written by: Ashtray tom (4/10/12)::
i was cleaning Miss Xena's toilet sloughing off a little , Xena catches me not cleaning it with my tongue, she shoves my head in it telling me to clean it better.As she is chastising me pushing my head in there to clean it. in walk 2 of Xena's friends Miss Alexandra Sadista and beautiful novice who has never dominated a man before, when i am finished Mistress Xena drags me into the other room and throws me around like a rag doll,the ladies then kick me around like a soccer ball and i am then ordered to light their cigarettes i then serve as a spittoon and ashtray for the ladies as they use my mouth as a ashtray and spitting in my face ridiculing my small penis, Miss Alexandra and Miss Xena go right for my balls as Miss Sophia the novice is having a blast never knowing that she could have so much fun humiliating a slave! She also spits in my face and uses my mouth as an ashtray, Miss Sophia has a long Virginia slim 120. Miss Alexandra a clove and Miss Xena a cigar which is tough to handle, Miss Alexendra kicks me several times as the ladies then shove some dog bones in my mouth, forcing me to eat the dry disgusting bones, Miss Xena then spits in my face several times, throwing me around like a rag doll using my mouth for her cigar and pulling my hair. She then opens a nasty can of Alpo dog food and force feeds it to me, it is awful but i don't dare throw up for the fear of the punishment Ms Alexandra and Miss Sophia then join in and feed me i am then made to jerk off in the dog food as Miss Xena mocks me i am then made to eat the disgusting mess, i am then given my birthday kicks.
---

Review Written on Feb, 25 2012
Written by: Pantstain::

"On the 25th of February, I had the pleasure of serving the lovely Mistress Xena (of Chicago) at The Studio. It was quite a thrill as I had never served a Mistress before. At least, not for a privately booked session. The service Mistress was providing–or, maybe I should say I was providing–was to be Her toilet. Specifically, my mouth was to be Her toilet.

It was a cold day and I got there a little early. I allowed myself in the building because a neighbor arrived and I went in with him. I knocked on the door and called Mistress asking to be let in. She informed me that I was a bit early and asked if I could get her a coffee from the Dunkin' Donuts. So I crossed the street to oblige. I'm also holding in my pee from the morning and I'm wearing tight-fitting, light blue jeans.
When I get back, She's inside and buzzes me in. Since this is our first session, we take a minute or two to talk and get comfortable with each other. This is important to me because while I'm no stranger to being a urinal, I had never been someone's full toilet before. The anticipation was nerve-wracking, to say the least.
After a bit of talking (presumably so She could allow her body to metabolize
something). Then Mistress has me remove Her boots so I can lick and suck Her toes and massage Her feet. This pleases Her, and I feel grateful. Mistress also has me kiss her legs up and down and suck on Her sweet spot behind the knee. Eventually, Mistress leads me to the bathroom, like a dog. I am insructed to crawl ther on my hands and knees.
There is a makeshift toilet across from the real one. It has a regular toilet
seat, but it's designed so a slave (me) can lie on his/her back with his/her head under the hole. I was bracing myself. I was looking forward to the pee. Mistress's ass was covering the hole and reminding me of that scene from The Ring for a moment. First She peed. More of the piss went up my nose and in my eyes, but I got a good taste of it. Then I closed my eyes and kept my mouth open, waiting for the inevitable. And after a few moments, it happened. I felt a turd fall and land
more or less on my mouth. Then another on my chin. And another more or less on the first two turds. My breathing got faster and I was worried I would gag on the stench and texture. But to my surprise, I was doing fine. Mistress had me hold it all there for about a minute before asking how I was doing. Since I couldn't talk, I gave her a thumbs up.
After a bit, Mistress had me come out. I wriggled on my back and emerged with shit piled on my mouth, to Her delight. She said since I held out and didn't gag that I was allowed to take it with me. So Mistress provided a Zip-loc bag and I carefully spat the shit out into that. I was then allowed to take a shower and brush my teeth. In the meantime, Mistress triple-bagged the shit and handed it to me to take home.
After getting dressed, I had one final act to peform for Mistress. With my pants on and me about to walk out, I stood by the doorway and relaxed as I started to pee in my pants. This amused Mistress–to my delight as well–and She instructed me to stand in the hallway because it was getting out of hand. I had pissed down each pant leg, into my socks and shoes, and soaked the hallway carpet under me quite a bit. Mistress was laughing hard now, enjoying the show. We bade each other farewell as I headed outside, in my piss-soaked pants, and drove to another part of Chicago as I had a haircut appointment. Imagine me in my piss-soaked pants sitting in the barber's chair! I can't lie, though, my barber didn't notice. But it was quite a gritty feeling!
---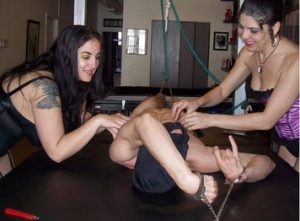 Review Written on Dec 2011
By: Joe P. Tickle
The panel on the front door had four buttons to indicate the building's tenants. As instructed, I buzzed the one which read "The Studio.""Yes?" came the familiar female voice through the speaker. Familiar, since per her requirements I had placed a confirmation call the previous afternoon and also this morning upon arriving in the city.The door unlocked to a tall flight of stairs. The door at the top read "The Studio," and as I approached it slowly opened as if on its own.Then she peeked around the door and her face lit up. She welcomed me inside, and as I stepped in I met eyes with her partner. They both wore revealing outfits and high heels.And so it began, this three-hour erotic tickling session at the hands of two professional dommes.They offered me some water, then beckoned me to remove my clothes.The studio layout was familiar, as her web site had contained a video. The bondage table had caught my eye, if for no other reason than that their tickling videos had featured their ticklees roped and buckled to it. Now I was stretched out on it, as they tied each wrist and ankle methodically, then secured a pair of belts across my chest and thighs.They started dragging their nails teasingly along my sides as I squirmed helplessly in place.One had brightly colored nails an inch and a half long. The other had nails that were short, but surprisingly ticklish nonetheless.Both had been tickle torturing people for years together. And oh how it showed.They laughed with enjoyment, as they traced circles under my underarms and I futilely yanked my elbows down in an attempt to stop them. Made playful observations, as they dug into my ribs.They usually assailed two separate parts of my body to distracting effect, as well as using different pressures and strokes. One slowly sliding her nails up from my ankle to my inner thigh, the other squeezing both hip bones. One tickling under my neck while the other explored my navel.Within ten minutes, they'd figured out how hard I got whenever my feet were tickled. From that point on, they were constantly given attention.And, of course, so too was my cock.The Studio's loaded with tools of all fetishes.A blindfold was put over my eyes.One donned metallic nails and tickled all around my legs.A Sonicare ran lazily over every inch of my heels.The tip of a piece of ice (which felt good, in a workout like this) was slid all around my stomach.Brushes of different textures glided up and down my arches.A string was weaved between my toes, then pulleyed back and forth through them.Then my toes were tied back, soles fully exposed to those rapidly scribbling fingernails.The string found its way looped a couple of times around my balls, not painfully, but with the experience that just enough would stimulate more sensitivity. Ticklishness aroused as easily as feather strokes or a gentle swipe of dental floss. Both of which were eagerly applied."Hold still for one minute without laughing!" they demanded. They knew I couldn't. They went directly for my feet. I looked down and beheld the sight of two women grinning deviously at my weakening resistance, giggling and cooing as they raked their fingers smoothly across the bottoms, and scratched under the toes.The mind spins, even recalling it now.I lost. And my punishment was to be briefly smothered by a pinch of the nose and a hand over the mouth while they merrily tickled my nipples and underarms, gracefully caressing out to the elbows and back.Right about then I learned something about myself. The tight bondage on my limbs, an hour of howling from the bottom of my lungs, and possibly a shortage of water and food (I'd taken precaution so as not to risk a bodily mess) suddenly had me as dizzy as a blood drive.My hands and feet were tingling numbly. I've never passed out before, and I have been tickled for longer. Just not in this combination. I was close, and borderline nauseous. I'm pretty sure looser bonds would have left everything fine.Here I give props to the mistresses. They gave me a break, got me hydrated and an energy bar. In 15 minutes we were back in action.They tied me to a pair of posts, a vertical spread-eagle if you will. Wrists cuffed at the top, ankles at the bottom.Now my butt cheeks, hamstrings, and back were as susceptible as my front.Now they could put their body right against mine from behind, purring phrases playfully into my ears.They could still sit comfortably at my feet. You might think that the soles weren't as accessible. But that was easily overcome. I had no leverage to stop them from swinging one off the ground and resting my heel in her lap. Well maybe I had some leverage. But they spanked me whenever I resisted until I complied.I have high arches, and their nails swept back and forth along them maddeningly. So maddeningly! I'd never been tickled in an upright position before. It likely had something to do with the blood rushing downward.It likely had something also to do with the baby oil. They squeezed their fingers in between each toe.Spidered their nails up and down my calves.With about a half hour left, one said "You know what I want to tickle now."The other giggled sinisterly and expectantly, and they both came around to kneel comfortably eye-level to my waist.Don't get me wrong, they had been teasing my privates in and out of attention all afternoon long.With nails.With brushes, long, feathery brushes.With the Sonicare.With baby oil.But now they were double-teaming with a single-minded purpose, determined to make sure that I went right up to the edge and out of my mind.One cupped my balls and tilted my shaft directly upward, completely exposed and immobile.The other wriggled all ten of her fiendishly ticklish nails in the air menacingly, then slowly lowered them toward their target. I watched powerlessly as a cocoon of fingernails enveloped my shaft lightly, stroking up and down.My vocal chords hit a new octave. They just smiled knowingly, unaffected, joyful, focused, relentless."Tickle, tickle, tickle!" she sang teasingly."We're seeing signs of growth here," the other observed gleefully as she ran the pads of her fingers skillfully up to the base of the head, then back.Lord help me, my body decided not to cum this day. Maybe they knew something that I didn't. The sensory overload of thirty minutes of eye-rolling, pulse-pounding tickling erection was nearly as satisfying as any quicker ending could have been. When I'd start to flag, they'd reach down scraping into my toes and arches to coax another uncontrollable burst of hysterics and throbbing. Always with the steady, sensual, inescapable rhythm of those experienced hands, nails, wicked and sultry taunts.They could have gone on all day long. They never tire of tickling someone to the limit. They planned to do much more to me, and simply ran out of time.They'll get their chance."
---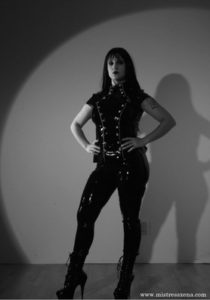 Review written on November 2011
by: Baby Stu
Baby stu had paid Mommy Xena a visit.
Baby stu is a special and delicate baby, whom always behaves for his Mommy. However, this time, he misbehaved. When Xena went to the next room (while little stu was in the playpen), stu had tore the heads off of his stuffed animals. stu had nothing better to do, and intentionally did it to anger Xena.
Mommy Xena smacked him a couple of times and figured that She needs to give him a severe punishment to little stu. Xena made stu get dressed in a white t-shirt and white shorts, since the day was extremely hot. Since stu has bladder problems, stu was forced to wear his big diaper under his white shorts. Xena had taken stu to the shopping mall. However, Xena made other plans than shopping. Xena and stu walked around the mall, and stu kept on whining. Xena then placed a pacifier in his mouth, so he cannot whine. stu drew attention, while whining.
There were a group of teenage girls, which had laughed at stu (while stu sucked on his pacifier. And obviously, they have noticed stu wearing a big diaper). Other individuals stared and laughed. Xena had one last idea. Xena had taken little stu into Victoria's Secret. Xena had ordered stu to squat down in front of the cashiers & urinate in his diaper. stu followed Xena's orders. The cashiers were very confused, as well as for the shoppers.
While stu was releasing his urine, he screamed out, "Ahhhhhhh". stu had released a lot of urine, to the point where a stream of urine had ran down his hairy leg. The back of his shorts were looking a bit 'damp'.
Xena had stood about 20 feet from stu, while this had taken place. Xena had laughed hysterically, which had caused other Women at Victoria's Secret to laugh at little stu. When stu was finished urinating, stu had blushed and a few tear drops ran down his face, due to the embarrassment and the humiliation that Xena had done to him. Xena whispered to little stu,
"Did you learn your lesson now? Are you going to damage your toys next time"? stu said, "No, Mommy"! Xena and little stu had left Victoria's Secret & stu has no intention to attend that specific store again.
---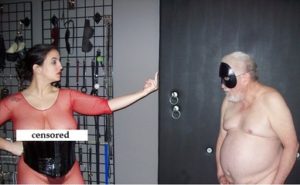 Review Written on May 2011
Written by: sirduke
Ohhh myyy!!! Mistress Xena wore a super sexxxy fishnet bodysuit. I dropped to my knees at the door in shock and awe. I call this costume Her red stalking. It shows off Her curvaceous awesome body. Then we went into the main room and She hypnotised me with Her sexxy body. Then She ordered me over the punishment bench for a deserved whipping with Her nasty purple bullwhip. You see i owed Her $$$ and you dont want to owe Mistress Xena Money. I have seen Her many times and each session gets better. Her wonderful boyfriend filmed it all. He is excellent as a camera man and got great closeups. What a session! I was partying with Mistress Xena.You can see the results on Her clips for sale site You can see me on there as joeschmoo or the old geezer.Mistress Xena is seeking new video session slaves. Here is your chance to have an awesome session and have it recorded. I watch my videos over and over. Extremely high quality with awesome photography I am extremely proud and honored to be in Mistress Xenas videos. I am seeing Her again today. Update -sessioned with Mistress Xena again today, She was wearing the same sexxy red stalking costume as before. Ohh myy i was drooling as She is a gorgeous Mistress with an awesome body.She told me today was doomsday as i owed Her $$$/ She cuffed me to the wall and started pummeling me with her boxing gloves. She hits very hard. I told her She should be a pro boxer. I finally couldnt take it anymore and begged for mercy. Then She brought out a long wooden paddle and hit me extremely hard and made me count the strokes. 10 and i was hoping that was it because my ass was aching and red. Then more and finally i dropped to the ground and couldnt take it anymore. My ass was grass. Ouuchh!!Thankfully i was spared of enduring Her nasty purple bullwhip that She used mercillesly last time. then i was her ashtray as She smoked and i was mesmarised by Her sexxy body so close. It was an honor to be Her ashtray.Then Mistress Xena stood above me and gave me a great look at her beautiful ass. I was in heaven. And she began to hypnotise me with her awesome breasts. I was out of it-in subspace! Mistress Xena is a georgeous woman and just being next to Her awesome curvy body in person is indescribable . She will look at You with Her piecing eyes and read you.It was a wild party and fabulous fun. Best session ever! I told Mistress Xena that i needed to see her more often.Once a month is not enough. She agreed that i need to to keep in line. I had an awesome time. Mistress Xena is so cool!! If you have not seen her I highly recommend it. Your life will never be the same. Stay tuned for my next review. Thank You Mistress Xena!!!!
---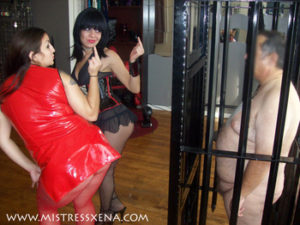 Review Written on May 2011
Written by: George The Pig
I recently meet with Mistress Xena little did I realize what she had in store for me.I rang the bell and was buzzed up. The door opened and there stood Xena & She immediately pulled me in. I knew something was up. She had 2 ladies one a cute red head (Mara Mayhem) and a beautiful statuesque brunette (Lady Goddess Maria) both of whom were also dressed in a black Mini-skirt type outfit. Nobody was smiling so I knew I was in trouble. They all looked very hot and sexy 3 gorgeous ladies with such beautiful legs to die for.Xena and the other two started to spit and kick me telling me they were going to teach me a lesson. Xena then asked the cute red head if I was the one and she said yes. They all started swearing, kicking and spitting at me. They started to remove my clothing and then commanded me to remove my clothes so Mara could examine my penis. Xena then put a leash around my neck and pulled it tight kicking and spitting. She made me crawl out of the holding room into another larger room and was flogging my ass as I crawled. They made me kiss their feet and lick their toes then made me stand up. They removed my glasses and started spitting; the red head Mara made me open my mouth and spit repeatedly in my mouth. They spit water and whatever they had to drink came splashing in my face and mouth. They even chewed nacho chips and spit them me.Kicking me in my balls unmercifully. They then made signs and taped them to me. I think the signs had PIG or PEON or something like that. They called me hog, piggy and many other humiliating names. They slapped kicked and spit on me making fun of my penis. Xena then kicked me so hard in my balls it felt like they were crushed. They wanted me to dance on my toes like a ballerina and I did as they asked hoping for some sign of mercy. Mara Mayhem said maybe we can keep him as an entertainment slave. That was music to my ears and was hoping the idea would appeal to Xena. Suddenly Xena said I have to pee and said lets finish this after we piss on this pathetic pig. I was then led into the bathroom and ordered to lay flat in the bath tub. She then stood over me and what I saw was a most beautiful female urinating all over me with her golden nectar telling me to play with my dick as it drenched all over me. Then Mara Mayhem stepped into the tub and she then threatened to pee in my mouth but was merciful and let loose on my penis telling me to jag off as she pissed on me. Lady Goddess Maria did not participate but watched in amusement.The experience was that of being beaten, humiliated, degraded, pissed on and lynched by three beautifully women. What a way to go.
---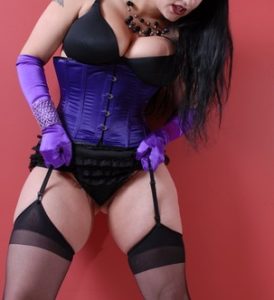 Review written by mikhael
Date: 2006

Mistress Xena. A highly desired and demanding Dominatrix Goddess as Yourself has… Her following(entourage)… and loyal stable… and regular clients, i'm certain, so She mightn't remember one lowly submissive male who sought her Hand and talent, amongst such rabble.
i was allowed honor to make audience, and toil before You. It was May Day, this year.
You wore Your purple ensemble, and made mention… purple… was Your color of choice, for slaves.
Needless to say, i was amply rewarded with Your attention that evening.
To refresh, i became weak upon Your cross and You showed compassion, for which i was heartily grateful. It was a marvelous warm evening in The City of Big Shoulders, yet the chambers were stuffy. The window was shut.
You looked down Your nose at a sniveler and remarked what a hairy sweaty beast he is. Needless to say, i am left a touched and adoring hopeful, once again.
---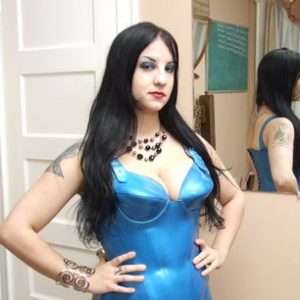 Review written by: Catamount
Date: 2008

Very refreshingl. Ms Xena is young but has 7 years experience in the lifestlye. She knows her stuff and she is very open minded while being in control. 100% real. Will certainly see her again.
---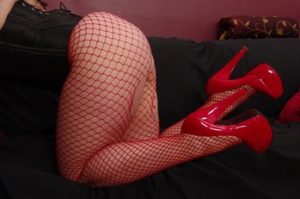 Review Written By sirduke
Posted on 2.14.12
Every session gets better and better. Mistress Xena was wearing a super sexxxy red fishnet bodysuit. My favorite! From the moment i came in She took complete control. i just lose it watching Her super awesome body. Since i hadnt been there in awhile i received a barehand spanking.She then put Her hand over my face to smother me. I was then hyptnotised by Her.And it was all filmed. It was so much fun. It was a real party smother. She even allowed me extra time to clean Her dungeon.There is nothing like a session with Mistress Xena!! I am completely broken and under Her control. I am saving for the next session. Thank You Mistress Xena!!! We had a blast!
---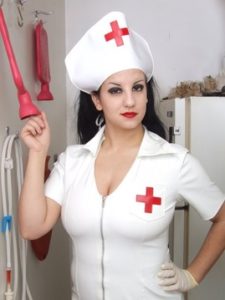 Review Written By jjsniff
Posted on: 9.15.11
Xena opened the studio door hiding behind it. She was wearing a black bathrobe not fastened in the front through which I could see a white bra and white thong panties which could not hide her spectacular assets! She is one sexy lady. We had briefly discussed the medical scene I was interested in, so she asked just a few more questions and told me to change into my birthday suit. She directed me to the antique gyno table, had me lay down with legs fully exposed in the stirrups, and went to fill a big enema bag with hot soapy water. After a thorough prostate exam with several gloved fingers, she inserted a large enema nozzle and started the flow. It filled me up quickly as she felt my stomach and pinched my nips. All the while she was teasing me with her body. Rather than acting so stern, she liked to laugh at my suffering, my bulging tummy, and small equipment. After what seemed a long time she allowed me to go to the bathroom and release while she watched and laughed at what a site it was.
No sooner had I finished in the bathroom than she led me back to the gyno examination table and started injecting another very hot, soapy enema. This time she raised the infusion stand holding the bag much higher and the liquid just shot into me quickly. She teased me and then allowed me to worship her lovely ass cheeks. Xena ordered me to feel and squeeze her sexy ass. She also bent over me and briefly lowered her bra. Then she took out a big steel sound with serrations on it and threatened to insert it into johnny. How she can tease! Then she took out a more normal sized sound and played with that in my front. I was surprised when she went back to grab the hurtful looking serrated rod and started to insert it. She had me on the edge and then held a vibrator against that mean sound partly in me. All the while I was trying to hold 3 quarts of hot soapy water. Finally she allowed me to release. For the last treatment she had me lie in the bathtub. she stood over me, pulled her thong to the side and released a golden river. This brought me over the top. I took a quick shower and dressed. As I was leaving and after the usual hug, she bent over and ordered me to kiss her ass globes for a last time. It was terrific and I will return.
---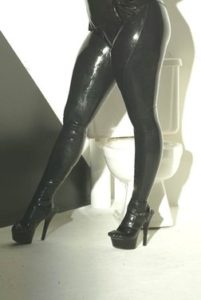 Review Written By slavemonica
Posted on: 7.29.04
Mistress Xena, my Mistress had been at her computer and logged me in for the first time, I had trouble subsequently replying and just now have been able to. When Mistress Xena logged me in, she ordered me to type a testimony to her, and of course i was delighted to do it, as i sat naked at the computer, TOTALLY in her power!
The last 3 times that i have seen Mistress Xena, i have been tied in her bathtub, and endured a golden shower, which i had never had before. As Mistress said, it is getting much much easier, and i KNOW Mistress wants this done to me to become enslaved by her more and more. Last time i was hogtied face down, and had the GS and somehow got free after a bit, angering Mistress very much. Especially, Mistress had tied me with an INCREDIBLY creative Japanese rope bondage. Mistress was very kind to me, letting me have some leeway with the ropes, but i know that will not happen next time, and as punishment, i probably will be tied in bondage tightly, as Mistress leaves me there helpless, as she sleeps, with me not knowing when she will release me. i wonder if when Mistress awakes, she will just get up to do another GS on me, and leave me helpless to struggle in my inescapable bondage.
Also, Mistress does an incredible job of face slapping as well as spanking, last time she had me across her knees, and spanked me with BOTH hands at once, which was soooo intense !! Mistress also has a whip she delights in using on me. i can't wait to be tied in her bathtub soon again, with GORGEOUS Mistress Xena, standing over me as i am helpless as Mistress enslaves me further, as she does soooooooo well !!! Once she even forced me to drink large amounts of water to heighten my helplessness. Mistress Xena is indeed a VERY unique and astounding Mistress.
slave monica, Mistress Xena's house slave